As a person who exists on the internet, and now works in technical marketing, I couldn't help but jump on the "list article" train. I think that more technical demonstration articles could benefit from this style, lets take it out for a spin.
Atalasoft's WebDocumentViewer is a component that allows for human-to-document interaction inside a web browser, which can enable a crazy, huge amount of use cases when working with paper documents. We think we (and our viewer) are pretty awesome, here's why:
10. Easy to get started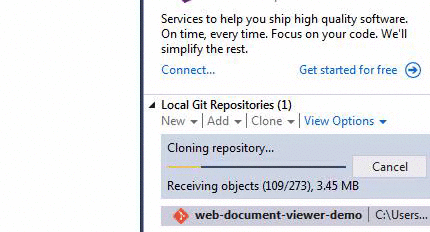 We provide a GitHub with a simple starting point for our viewer, making it really easy to get started with our viewer.
Select Open from Source Control on the start page of VS2015 and clone the repository at https://github.com/Atalasoft/web-document-viewer-demo.git.
Open the and compile the solution and we will automatically get all the latest references through the NuGet interface.
If you do not have a license, get one and put it in your bin folder by creating an account and requesting a license at this URL:
https://www.atalasoft.com/Support/my-portal/Request-Evaluation.aspx
You can also visit our complete GitHub and our live hosted demo here
9. Thumbnail Viewer
Documents can have quite a few pages, and when you need to move between them or find the page you are looking for quickly, having to scroll around a full size document wastes time. Our thumbnail viewer even allows for pages to be rearranged or documents to be appended to. The web document viewer can use the thumbnail viewer or can be separated for any document needs.
8. Supports PDF and Other Formats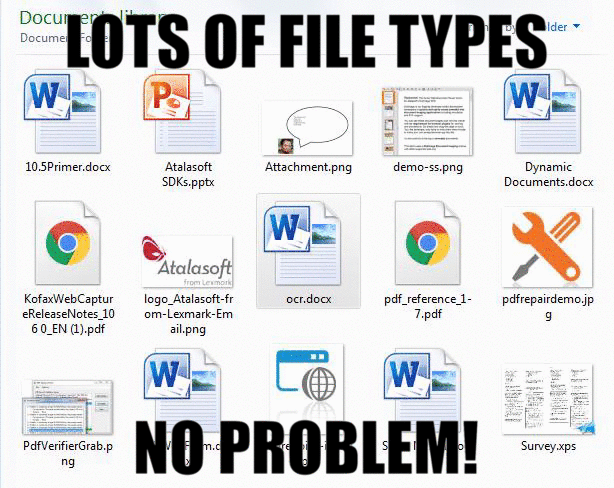 PDF and many other formats are not web native. Our viewer live-converts image formats into formats viewable in HTML5. From CAD to DICOM to RAW to even Powerpoint slides we can easily display any image in our viewer, without any additional code.
7. Touch Support
It's possible some people have been living under a rock, but many browsers are now coming from mobile platforms, being able to use the same viewer in both situations is a huge plus. We have further structured our viewer to behave to standards set forth by Apple and Google, automatically without any additional code.
6. Data Security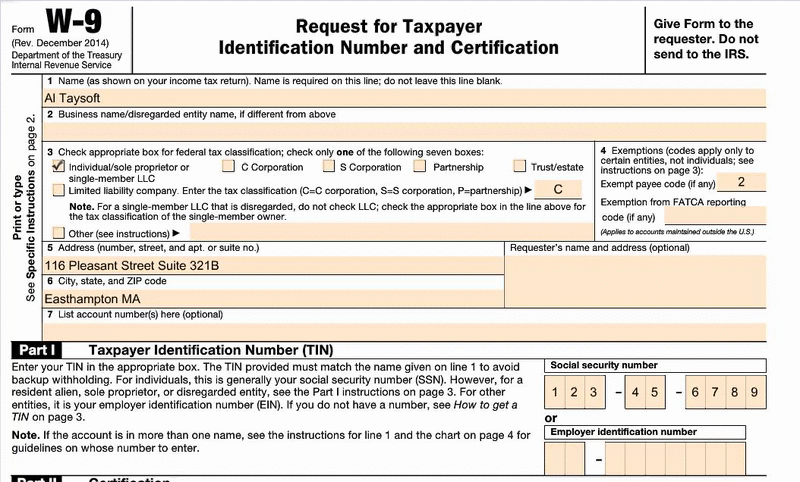 Because the images are being rendered in real time on the server, it's possible to protect data and leave breadcrumbs as to who accessed and saved the data in the event of a leak. Auto redaction can be performed intelligently based on the users permissions on the server before reaching the user, hiding the data that the user shouldn't have access to. Atalasoft provides the tools to add these custom data security functionalities easily.
5. In-Browser PDF Form Fill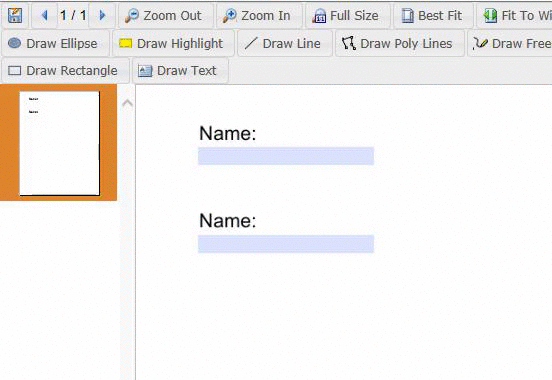 Want to present interactive documents where data can be saved to a unique PDF? A single configuration option is all that needs to be turned on to add fields to a document. The hard part is all handled, and if custom workflow needs to be kicked off the server has events connecting user action to your backend process. Enabling this is as simple as setting a configuration property of the viewer.
4. Huge Document Support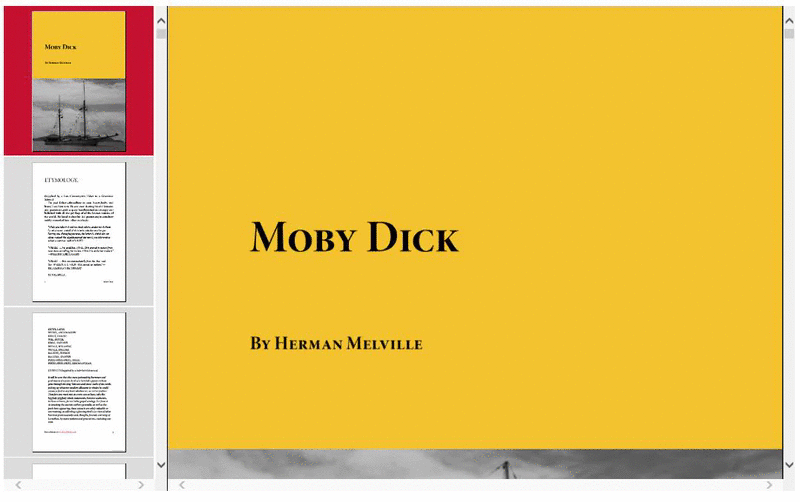 Not all documents are created equally. Some are massive juggernauts. Take Moby Dick, for example, its 861 pages of white whale hunting goodness, our viewer can handle it. We dynamically load pages around where the viewer is currently focused to reduce load times and prevent in browser memory crashes. It's really quiet but it makes a huge difference, and you don't need to add any code.
3. Annotations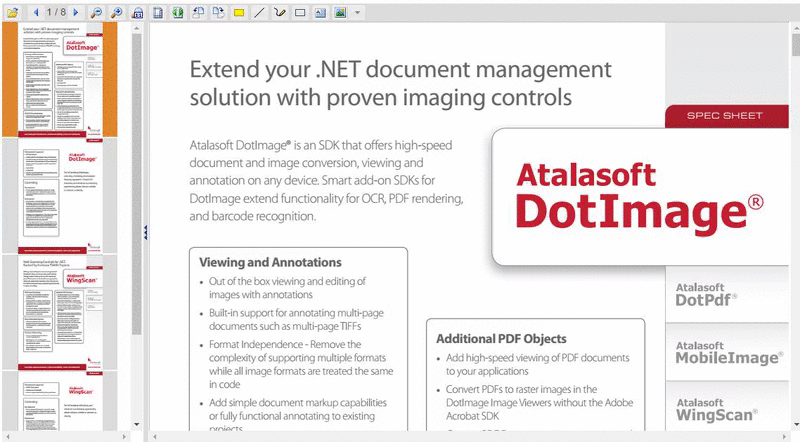 Atalasoft's viewer has annotation support built right in. Just set the config option annotations to true. We maintain 8 out of the box annotation types, like text, freehand and rectangle and provide an interface for creating custom annotations. This enables many different kinds of document interaction, natively and in-browser, and only requires the config property:

allowAnnotations: true,
2. You don't have to write it yourself
Let us handle the hard and frustrating parts! This saves you and your team time, going from concept to proof in less time, and makes your final product simpler, cleaner, and more robust.
1. Atalasoft's Support Team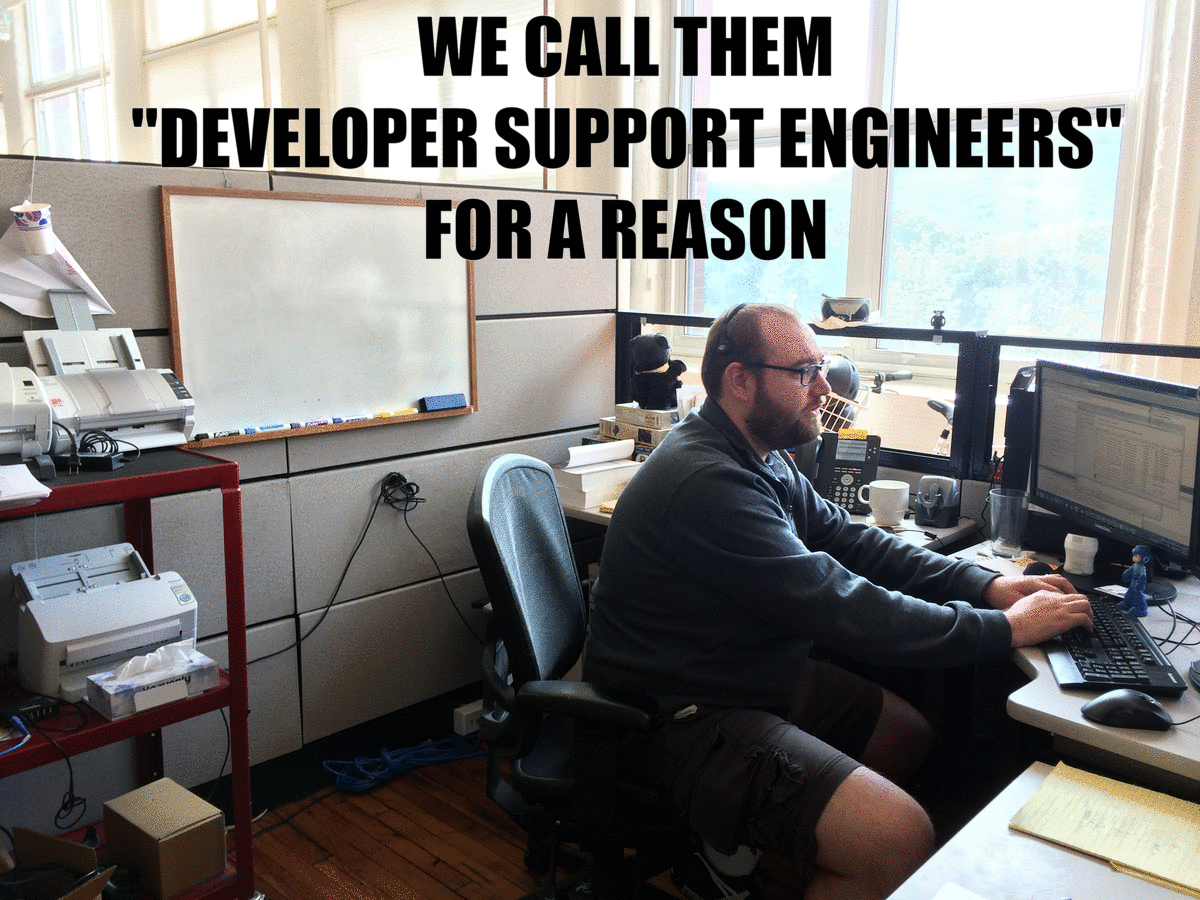 Our support team is there for you to help with your images and the implementation of your own custom viewer. We employ true software engineers to get your document-centric apps looking sharp and working the way your use case calls for. Whether you prefer calling us directly or using our case portal, we help you the way you want.